Billabong High International School, Bhopa
Slide 1 Heading
Lorem ipsum dolor sit amet consectetur adipiscing elit dolor
Slide 2 Heading
Lorem ipsum dolor sit amet consectetur adipiscing elit dolor
Slide 3 Heading
Lorem ipsum dolor sit amet consectetur adipiscing elit dolor
Career Guidence & Counselling



Billabong High International School, Bhopal School Info
Research has found that there is a link between student-teacher relationships and student learning outcomes. Those that have positive relationships with their teachers are highly motivated, focused on their task, and have greater overall learning outcomes.
Built on the concept of "Experiential Learning", BHIS Bhopal's high-calibre academic educators engage students in innovative and activity-based learning models that allow practical learning and a thorough understanding of the subjects.
| | |
| --- | --- |
| Location | Bhadbhada Road, Neelbad, Madhya Pradesh 462044 |
| Admission News / Status | Coming Soon |
| School Affiliation Registration |   |
| School Calling Number | 0755 269 6799 |
| Mail id For School |   |
| Founded | 2005 |
| Facility For Hostel: |  yes |
| School Type of Medium |  English |
| Approx Exp. of Principal's Admin |   |
| Education Qualification For Principal's |   |
| Name of Schools Principal's | MR. Ashish Agarwal |
| Total Teaching Experience For Principal's |   |
| Affiliated Board Name of School: |   |
| Level of School | Secondary School |
| Name of Society | Bhaskar Group and Sharda Devi Charitable Trust |
| School Type: | Co-Education |
| Official Website of School | https://www.bhisbhopal.edu.in/ |
Billabong High International School, Bhopal- Course
Nursery, KG-1, KG-II, 
Class 1st to 5th
Class 6th to 10th
Class 11th to 12th
Billabong High International School, Bhopal - Fees
Billabong High International School, Bhopal- Eligibility
Finding the right school is all about finding the right environment for a child and we at , strive with the same goal in mind. Admission to Billabong High International School, Bhopal, is open to all children depending on the seats available.
ADMISSION ELIGIBILITY & WITHDRAWAL
Application for admission must be made in the prescribed form. It has to be duly filled by the parents, supported by relevant documents as desired by the school.
Admission to classes IX and above is made on the basis of Entrance Exam. Students will have to appear for a written test.
Admission to Nursery, KG-I, KG-II & Class I will require the attested copy of the birth certificate, issued by the Municipal Corporation.
A student admitted into Class II or above will have to produce the Transfer Certificate duly signed by the Principal and countersigned by the Competent Authority along with the verified photocopy of report card of the previous class.
No Transfer Certificate will be issued till all dues are cleared.
One month i.e. 30 days' notice for withdrawal of students, or one-month school fee has to be paid. No refund or adjustment of the fee will be entertained.
Admission to class XI and allocation of the stream will be confirmed on the basis of class X Result, Entrance Test and student's aptitude.
The Decision of the Principal shall be final.
Online Admission Procedure (Only applicable for outstation admission applicants)
Download the Registration Form available under the Admission tab in the school website.
Please take print out of the registration form, fill the same and email scan copy of the completely filled form to  https://www.bhisbhopal.edu.in/
Our Admissions team will get in touch with you at the earliest. 
Ask Your Quaries With Us !!
Billabong High International School, Bhopal - Gallery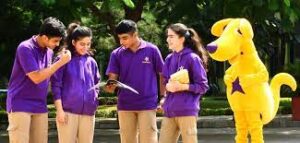 Billabong High International School, Bhopal- Hostel
Billabong High International School, Bhopal - Extra Facilities
Address: Bhadbhada Road, Neelbad, Madhya Pradesh 462044
Contact Number:  0755 269 6799
Billabong High International School, Bhopal School - FAQ & Reviews
What is CBSE Affiliation Code of Billabong High International School, BHOPAL?
CBSE Affiliation Id / Code of Billabong High International School BHOPAL is 
What is Address of Billabong High International School BHOPAL?
Address of Billabong High International SchoolBHOPAL is Bhadbhada Road, Neelbad, Madhya Pradesh 462044
When was Billabong High International School, BHOPAL founded?
Billabong High International School, BHOPAL was founded in the year 2005.
Billabong High International School, BHOPAL comes in which type of category?
Billabong High International School, BHOPAL comes in Co-educational category.
What is medium of education in Billabong High International School BHOPAL?
Billabong High International School BHOPAL is English Medium School.
Billabong High International School, BHOPAL is of which type?
Type of Billabong High International School BHOPAL is Independent school.
What is the official website of Billabong High International School, BHOPAL?
Official website of Billabong High International School BHOPAL is https://www.bhisbhopal.edu.in/
Who is the principal of Billabong High International School BHOPAL?
MR. Ashish Agarwal is the Principal of Billabong High International School, BHOPA